Marching Hundred Digitized Uniforms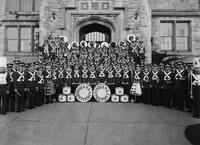 Description
Founded in 1896, the Marching Hundred is the premier marching band and cultural staple of Indiana University. Starting out as a 22-piece band, the Marching Hundred has evolved over the years with different styles and flair that can be seen with each uniform sported by every band member. The Advanced Visualization Lab has compiled a viewer of various Marching Hundred uniforms to digitize such flair.

Various textiles, including; wool, leather, synthetic leather, polyester, cotton, and others.
Client
Special Thanks to Daniel Leathers, Dr. Eric Smedley, and the IU Department of Bands. For more information on the Marching Hundred, visit
https://blogs.iu.edu/marchinghundred/
All Rights Reserved the Trustees of Indiana University.